Bishopthorpe Road safe space trial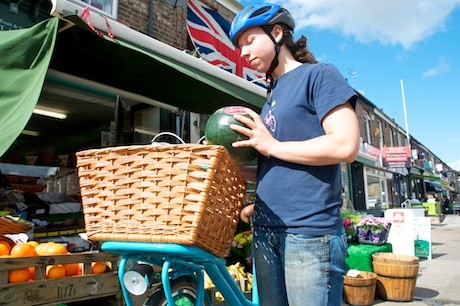 Bishopthorpe Road safe space trial
City of York Council will be trialling an emergency closure of the southbound lane of Bishopthorpe Road from Thursday 7th May.
This will provide more space for residents to social distance whilst walking, alongside other measures during the Coronavirus pandemic following feedback from local residents, ward councillors and businesses.
A temporary traffic restriction will be introduced on Bishopthorpe Road restricting southbound traffic. A closure for all southbound vehicles except cycles will be put in place close to Darnborough Street restricting traffic on this section of Bishopthorpe Rd down to Scarcroft Rd. Diversion routes will be put in place for southbound vehicles via Nunnery Lane, Blossom Street and Scarcroft Road.
Bus routes 11, 21 and 26 will divert via The Mount and Scarcroft Rd in the southbound direction only.
City of York Council will keep this short-term trial under constant review. We encourage residents and businesses to share their feedback on this trial, so we can continue to monitor, understand and respond to these challenges.
Other measures being investigated to provide more information/space for pedestrians and cyclists include:
Provision of signs at key cycling/walking pinch point locations across the city to provide advice on how to adequately socially distance at those locations
Writing to the Police and Crime Commissioner to highlight speed issues across the city and surrounding villages
Reviewing of the potential to remove barriers on cycle routes where possible without creating safety concerns.
Deputy Leader of the Council and Executive Member for Transport, Cllr Andy D'Agorne, said: "The Coronavirus pandemic has significantly changed everyday life in many ways. One key difference is we have seen a large reduction in traffic on the city's roads and an increase in walking and cycling.
"In response to the increase in people walking and cycling, and in line with social distancing guidance, the Council has worked to review the use of pavements, roads and public spaces by all users, to ensure everyone in York is kept as safe as possible. Following feedback from local ward councillors, businesses and residents, we will be trialling changes to Bishopthope Road to allow social distancing where pinch points occur. We understand that they may not be convenient for all road users, which is why this will only be a short term trial and will be under constant review.
"I would encourage people share their feedback on the trial so we can see how best to respond to these challenges in the medium to long term. We are keen to identify opportunities to maintain the health benefits of low traffic and improved air quality in whatever the new normal looks like following the pandemic for communities."
The council will be writing to residents and businesses close to Bishopthorpe Road over the coming days to get feedback on the emergency trial measures. To provide feedback, please use the email address highway.regulation@york.gov.uk
Road safety advice:
It's important that all road users give pedestrians or cyclists plenty of room when passing them
Motorists should lower their speed and be aware that there is an increase in the number of novice cyclists on York's roads and pedestrians may move into the road unexpectedly when passing others on the footway
Cyclists must make sure they check the road and signal their intention to other road users, prior to moving their position on the road
Cyclists need to create distance with other road users, including pedestrians. Drivers should be aware that cyclists may pull out into the middle of the road as they pass pedestrians on the footpath
Pedestrians should take more care to look properly (not just listen), when crossing the road. Just because roads are much quieter, it does not mean that there is nothing coming towards you
Motorists should keep an eye on their speed particularly in areas where there are pedestrians and cyclists and where traffic levels are much lower than normal
UK Government advice is to stay local and use open spaces near to your home where possible
Do not travel unnecessarily
You can still go to the park for outdoor exercise once a day but only by yourself or within your household, and not in groups
You should keep 2 metres apart from others outside your household at all times when outdoors
This decision has been made in response to the COVID-19 emergency by the Deputy Chief Executive using emergency powers and will be kept under review. This decision was made following consultation and feedback from residents, ward councillors, businesses and the relevant Executive Member.