Additional funding secured for electric buses in York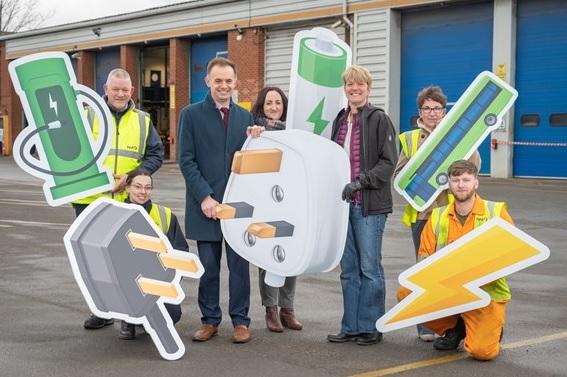 The Department for Transport (DfT) has awarded the council an additional £1.8 million to increase the scope of the Zero-Emission Bus Regional Areas (ZEBRA) scheme.
The ZEBRA bid also brings significant investment in York from First Bus, with First pledging to co-fund a further 9 electric buses. With these additional vehicles, the First York bus fleet will become fully electric by 2024 – a major step forward in decarbonising the city.
In March last year, City of York Council was awarded an initial £8.4 million in ZEBRA scheme funding, which enabled an order for 44 electric buses from British manufacturer Wrightbus. The local authorities successful in this initial bid were then offered the opportunity to apply for additional support from the DfT. Of those applicants – 5 local authorities have been successful, including York.
The funding will also be used to support the electrification of First's James Street depot, including the installation of charging equipment and removal of the diesel refuelling station. This award is in addition to the Bus Service Improvement (BSIP) funding of £17.36 million received from the DfT in November 2022.
Councillor Andy D'Agorne, Deputy Leader and Executive Member for Transport at City of York Council, said:
We are delighted to be successful in receiving an additional £1.8 million in funding towards providing clean, zero emission public transport across the city.
"This is fundamental to achieving the city's carbon reduction goals while supporting the development strategy set out in the Local Plan. To encourage greater use of the bus network, and sustainable travel routes, our network and bus services must be safe, convenient and attractive to residents, commuters and visitors."
Cllr Paula Widdowson, Executive Member for the Environment at City of York Council, said:
Securing this investment is excellent news for the city. Here in York, we have already gone to great lengths to promote sustainable travel, particularly on public transport.
"York already has bold targets for reducing carbon and taking steps to tackle climate change – and a fully electric fleet is a significant move forward and the removal of the fuel tanks from the First Depot will be a significant milestone and message for the city. We know that we cannot achieve this alone and that is why this funding will be so important in helping us reduce York's carbon footprint and improving our air quality."
Richard Holden Parliamentary Under Secretary of State (Roads and Local Transport) said:
Buses are the most popular form of public transport, and these new British-built zero emission buses will support hundreds of high-quality manufacturing jobs in Northern Ireland, grow our economy and help clean up the air in towns and cities across the country.
"We're providing an additional £25.3 million to roll out 117 new buses to provide residents in Yorkshire, Norfolk, and Portsmouth with better, cleaner and quieter journeys, as we step up a gear to reach net zero faster and level up transport across the country."
Tom Bridge, Operations Director for First Bus in North & West Yorkshire, said:
We are delighted to be able to accelerate investment in the electrification of our bus fleet and infrastructure, supported by co-funding from DfT.
"As leaders in sustainable mobility, we are fully aligned with the Government and City of York Council's ambitions for a net-zero carbon transport system."
Read more about York's climate action goals.