E-Cycle Switch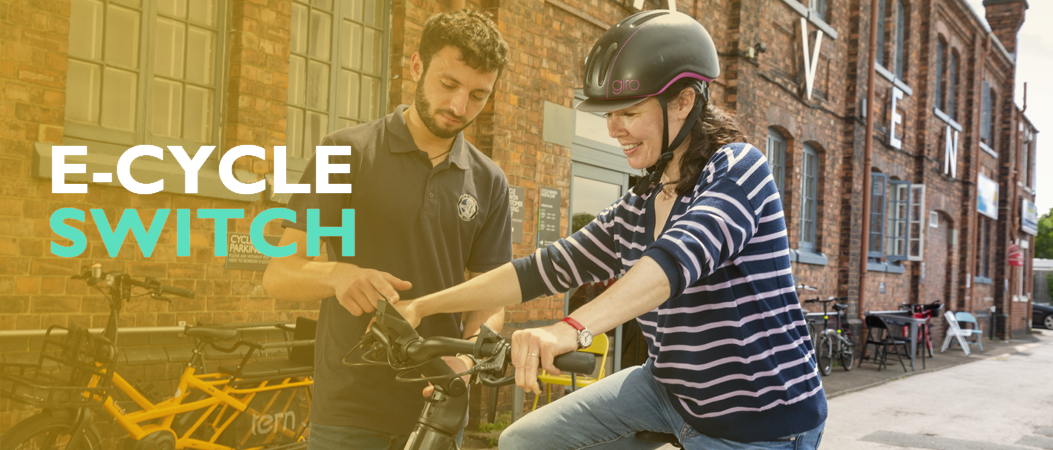 E-Cycle Switch applications have now closed. Please email itravel@york.gov.uk if you have any question.
We're working with York's bike shops to enable you to experience life with an e-cycle for 1 week, for FREE. If you decide it's right for you, we're offering a discount of £300* to buy your own e-cycle. This discount can be redeemed on a range of e-cycles at participating bike shops. We will also be introducing the option to borrow child-carrying equipment during your trial, with up to £100 additional discount available if you want to buy your own.
How does it work?
Apply
Your chosen bike shop will be in touch after you sign up to make sure the e-cycle is just right for you and arrange your collection date.
Please note that the scheme is now closed to new applications.
Try
Collect the e-cycle from your chosen bike shop and try it out for free for one week.
Buy
There is no obligation to buy an e-cycle, however, after your trial is complete you'll be entitled to a £300* discount on a new e-cycle from our participating retailers.
*Some residents may be eligible for a larger discount. See terms and conditions below for more information.
Free Urban Cycle Skills training is also available to help you make the most of your trial. Find out more about the training and book your session here (Please note: You should select the £5 session within the booking form, however you will not be charged this £5 if you are completing an e-cycle trial).
Which bike shops are providing trials and what e-cycles are available?
A bit of info to help you choose the bike shop you'd like to visit, and your preferred e-cycle model to use on your trial. Click on the photos to find out more about each model.
You'll be asked for your preferred bike shop and e-cycle model in the application form. If you're not sure what e-cycle model or size you need, the bike shop will be able to help you after you've submitted your application. Please note: the images below are for illustrative purposes and trial e-cycle colours may differ from the images below.
You don't need to buy the model that you borrowed for your trial, and you're not limited to buying an e-cycle only from the bike shop that provided your free trial. See the Where can I claim my discount section below
Please visit the FAQs if you have more questions
The Electric Transport Shop
Approximate wait time for a trial: 2 to 4 weeks.
32 Walmgate, York, YO1 9TJ
01904 623 515
Cycle Heaven
Approximate wait time for a trial: 2 to 3 months.
31 Hospital Fields Road, Fulford, York, YO10 4FS
01904 636578
Giant York
Approximate wait time for a trial: 2 to 4 weeks.
13 Lord Mayors Walk, York, YO31 7HB
01904 622868
Liv York
Approximate wait time for a trial: 2 to 4 weeks.
18 Monkgate, York, YO31 7PF
01904 404572
Inclusive E-cycles
Get Cycling
Get Cycling CIC is an inclusive cycle retailer specialising in inclusive and adapted cycles for customers whose needs are not been meet by a traditional cycle. They provide impartial advice and their aim is to get everyone riding irrespective of ability or requirements.
22 Hospital Fields Road, York, YO10 4DZ
01904 636 812
Get Cycling will be offering their full range of inclusive e-cycles for 1-day trials (unless otherwise stated below). This will help include the largest range of disabilities. Child-carrying equipment is also available to borrow. Some examples of the e-cycle models available for trials at this shop include:
Sociable Tandems – Great for riders who can contribute to pedalling but don't have the motor skills to be able to safely ride on their own. Can be specified with either hand cycle attachments or pedal attachments to give options for all riders.
(7 day trials of the Etnnic e-cycles may be available on request)
Please note: prices of inclusive e-cycles vary, and prices start at around £1750 (before the E-cycle Switch discount is applied).
Where can I claim the discount?
You're not limited to buying an e-cycle from only the bike shop that provided your free trial. The discount can be used at the following bike shops.
Please visit the FAQs if you have more questions'
Terms & conditions
The scheme is available to people living, working or studying in the City of York Council local authority area only. Participants must be over the age of 18 and must not already own an e-cycle.
Those currently unemployed and seeking a job, or starting a new job having been unemployed, will be eligible for a trial of up to 7 days (subject to availability) and a discount of £600.
Those trialling and purchasing an inclusive e-cycle will be eligible for a discount of £800.
Participants must complete a free trial to be entitled to the discount. The discount cannot be used in addition to any 'cycle to work scheme'.
Due to demand, an e-cycle, or one of the correct size, may not always be available at the time you want it. Bike shops will do their best to accommodate your needs in this regard.
More info on the terms and conditions of participation will be provided when you collect the e-cycle for your free trial
People completing a free trial may also borrow child-carrying equipment during their trial, allowing them access to an additional discount of up to a maximum £100 if they wish to buy your own equipment.
For information about the shared e-scooters and e-cycles found around York, please visit the TIER website.